PC 1.55.105.1020 / Mac 1.55.105.1220
5th Anniversary
It's already been five years since The Sims 4 released; whew–time flies when you're simming! In celebration of this milestone, we've added a set of end-of-summer content so that your Sims can join in the festivities. Invite some friends and family over, fire up the grill, and enjoy a backyard get together with this new content. (FYI – the new stilted foundation is perfect for creating a backyard deck!) You'll even spot some patterns with nods to famous icons of The Sims…
Men's Long Blazer

Woman's Summer Party Full Body Outfit

Boy's Polo Rugby Top

Girl's Knee-Length Leggings
Fence: "Fence"

Railing: "Stair Railing"

Stair: "Stairs"

Foundation: "Stilt Foundation"

Foundation: "Canvas"
Light: "Outdoor Ground Light"

Plant: "Plant Potted Floor"

Living Chair: "Outdoor Seat"

Lounge Chair: "Outdoor Lounger"

Dining Table: "Outdoor Table"

End Table: "Outdoor End Table"

Pedestal: "Upside Down Gnome Decor"
Muslim-Inspired Clothing and Architecture
To help even more of our players express themselves and create Sims that are relevant to their everyday lives, we've introduced a set of Muslim-inspired clothing and architecture.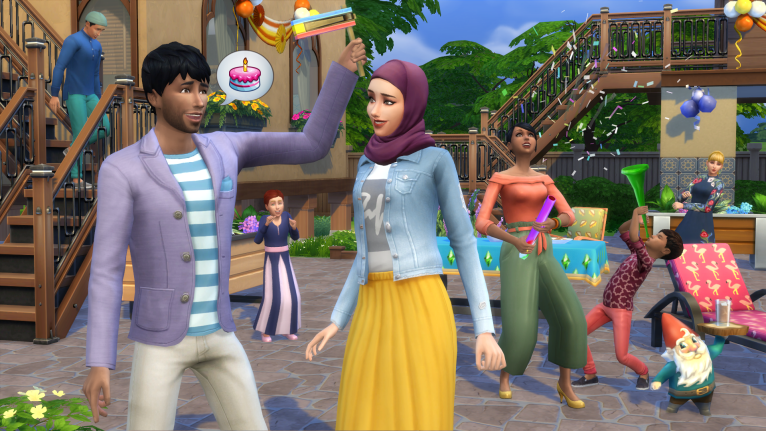 Hijab

Belted Dress

Jacket with Long Skirt

Modest Athletic Wear / Swimsuit

Athletic Hijab
Knitted Kufi

Buttoned Shirt
Girl's Pleated Dress

Boy's Buttoned Shirt
Window: "Window 1 Wide Version Angular"

Window: "Window 1 Wide Version Rectangular"

Window: "Window 2 Wide Version Angular"

Door: "Door 1 Wide"

Door: "Door 2 Wide"

Arch: "Arch Door"

Arch: "Arch E"

Tile Wall Pattern: "2 Tone Wall Without Wainscoting or Trim"
Basements will not create irremovable flooring between levels.

Fixed an issue where Tattoos and Skin Details did not apply on Mac.

Fixed an issue that caused weighting for names, clothing, facial features, and skin tones to skew heavily in specific directions if City Living or Island Living were installed.

Solved the problem where showers were playing a sound even after deleted.

Solved an issue where skin details vanish after randomizing traits, voice, or clothing.

Toddlers now learned how to drink from sippy cups again. Not sure why they were so resistant in the first place; those things are great!

Sims have regained the ability to gradually fill empty homes!

If you want Sims to fill empty homes, go to Game Options -> Gameplay -> and check the "Fill Empty Homes" option.

Photo frames will now persist when downloaded from the gallery.

Fixed an issue where when using the console cheat window the screen would go black.

Fixed various save load issues when loading specific households.

Sims are now able to drown again if you do not have Island Living installed! How were we able to survive without this? Either way, back to drowning!

Certain households will no longer randomly change into nude outfits.

Facebook functionality has been retired.

Friezes can now be applied to individual sides of lower height walls when holding the shift key.

Floor trims on exterior walls will no longer be cut away when a staircase is placed adjacent to the trim on the interior side of the wall.

Fixed a couple of layering issues with tight pants and boots.

Re tuned the values for comfort, decor, fun, hygiene, comfort on several objects.

Fixed various typos.

Fixed various other small issues.
Teen Sims that are Unflirty can now make out with other teens.
Fixed an issue where seashells liked to stack on top of each other. Not sure why these pesky seashells were so insistent.

Fishing in Sulani now counts towards the "Fish in 3 Spots" Goal.

Players now have the ability to trigger volcanic eruptions with cheats: volcanic_eruption small and volcanic_eruption large!

Children can now drown.

Sims can now drown while riding an Aqua Zip!

Island counters have been added to your Build catalog!
When putting your cuddly friends up for adoption you will no longer be faced with inaccessible UI.

Now your pets will be able to fully complete obstacle courses with Stand Platforms.
Skills/Tasks are now displayed for every gig and audition in the career panel.

Certain auditions will stop being spammed in the gigs panel.

They were reaaaallly desperate for talent.

Teen Sims can no longer run romantic socials with celebrities.
Portrait oriented photos that are submitted are now returned. Those greedy agencies, always trying to steal people's work.

Fixed some photo approval issues for the Photography Career.
Fixed a visual issue with fountain decorations being placed next to a pool.
Fixed an issue where Vampires were exhibiting their old weaknesses even though they were not applied.